Nursing Bra: The Art to Looking & Feeling Good While Nursing Baby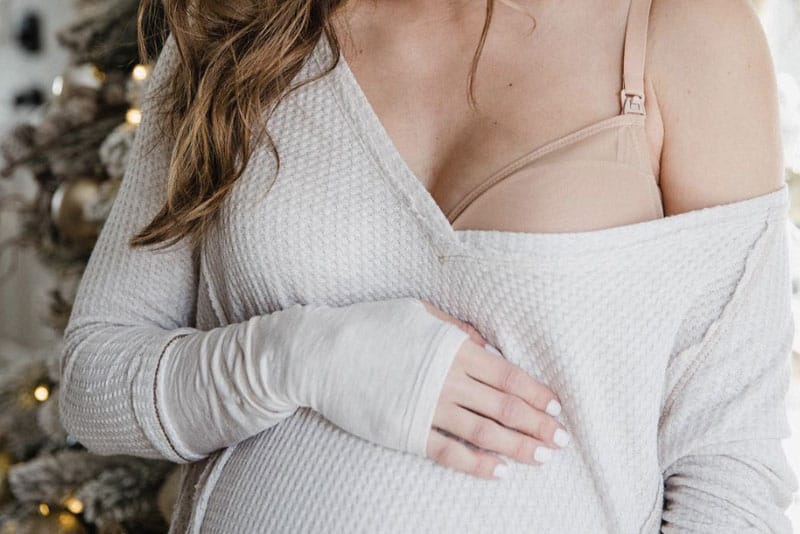 To nurse or not to nurse, that is the question many mothers ask themselves—and get asked a lot, too. While sometimes its hard to do, feel free to ignore all the well meaning advice and follow your maternal instinct for whatever is best for you, for baby, and your family, as you see fit.
For those who do decide "breast is best," we set out to make the process a little bit easier and prettier with specially designed nursing bras. Discover why the nursing bras carried at Kenz might just be the perfect fit you've been searching for in the next chapter of your life….
UP ALL NIGHT (AND DAY)
Getting use to a new schedule, not of your own making, is bound to take a toll on your beauty sleep quota. We can't help you make more time for some much needed sleep but we did take the lack of it into consideration when we added this one must-have feature to our nursing bras: One-hand clasps. Time and time again we have heard from nursing mothers what a time-saving convenience it is. Both the Mama Mia and Sexy Mama are designed to reveal your breast at the strap clasp. Want a little extra support for your tender breast? Both styles also feature a hidden  sling for an extra lift. And yes, they're both comfortable enough to wear to bed—or wherever you'll be getting your zzz's in the future
LEAK PROTECTION
Bound to happen sooner or later, a little leakage shouldn't be something you have to worry or be embarrassed about on top of everything else that's going on in your world. Both our nursing bras are designed to be sleek enough to accommodate disposable nursing pads without making you feel extra bulky or uncomfortable.
BABY COMFORT
When baby is hungry we doubt there is much that will deter him or her from suckling. But as nursing is the perfect time to get your little bundle of joy back to sleep, the cups of the Sexy Mama bra are designed to fold and prop your breast at an ideal angle for feeding. Worried about their sensitive skin? Don't be. All baby will feel is soft brushed fabric against their face.
BODY CHANGES
Your life has changed, so will your body. As your figure undergoes more changes after childbirth and through your nursing period, bras that keep up are necessary. That's why the back closures on the Mama Mia & Sexy Mama feature four hooks and eyes sets instead of three. Just one more design detail that was considered with nursing mothers in mind.